Rawmio Chocolate Hazelnut Butter - 1 Gallon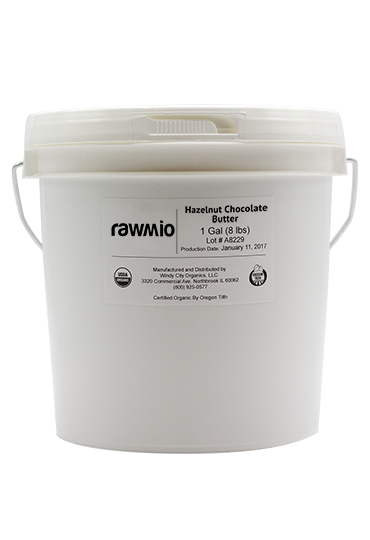 Rawmio Chocolate Hazelnut Butter - 1 Gallon
Regular price
$110.00
$110.00
Rawmio Hazelnut is a decadent hand crafted raw vegan treat that will satisfy your sweet tooth. We take raw organic hazelnuts and stone-grind them with organic cacao nibs and coconut sugar for a wickedly delicious, smooth dark chocolate spread we know you will devour.
*One truly decadent experience

*Tastes fuller and richer than other hazelnut spreads

*Uses whole hazelnuts - not just pieces or powder

*Spreads easily like a creamy almond butter

*Sweetened with Balinese coconut sugar, which is unrefined and lower on the glycemic index than sugar

*High in natural minerals

*Antioxidant rich

*Original Rawmio is for dark chocolate lovers

*Made with organic ingredients

*Stone Ground

*Raw

*Gluten-Free

*No added salt

*No added oils

*Sealed in Glass jars

*20+ hazelnuts in every jar

*6-8 servings per jar
Best Ways to Eat Rawmio
*Just you and a spoon

*With chocolate lovers

*At slightly above room temperature

*Consciously with your eyes closed and a warm smile on your face
The Many Uses of Rawmio
*Ice cream topping

*Spread over berries, figs and other fruits

*Delicious inside crepes

*Spread over croissants

*Instant hot chocolate! - Simply add 1 heaping tablespoon of Rawmio to 1 cup hot water. Stir well and enjoy!

*Great for entertaining

*Easy to add to any dessert for a gourmet touch

*Perfect for chocolate fondue
Prop 65 Information: This ingredient is part of the state of California's Proposition 65 Warning. Please click HERE for more information.
Raw Hazelnuts*, Raw Peruvian Cacao Nibs*, Coconut Sugar*
*Certified Organic